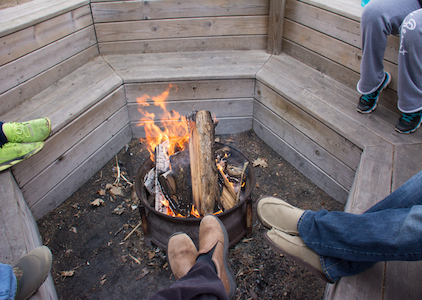 We are a family of 5 originally from Ohio. We purchased Bear Paw Resort in August 2005. We have spent our family vacations at resorts just like Bear Paw and we understand what your needs are to have the best vacation ever. We sold our family seasonal farming business to follow our dream. We have 3 grown children, Joshua, Jacob and Rebecca. On a personal note, all we can say is, it is so beautiful here. We have been awestruck over all the wildlife that we have seen, listening to the loons, hearing the eagles, seeing the loons and eagles teach their young how to catch fish, watching the gorgeous sunsets, smelling the lake air, and the pines on a leisurely drive with your windows open. We can go on and on. There is too much to tell in this short paragraph. This is why, after vacationing in this area, we chose to live here and raise our family. We hope that you make vacation plans for this area as well, it is truly God's Country.
 2015 Family Portrait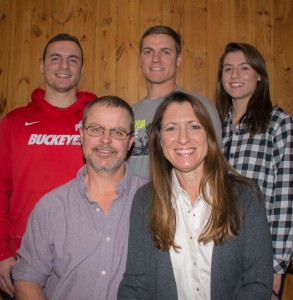 We just celebrated our 10th year as owners by building a new 40′ x 56′ Lodge that our guests will love. The LODGE Hours will be 8:00 am – 9:00 pm. Serving specialty coffees, baked goods, pizza, dipped ice cream sundaes & cones and possibly more. Also the Lodge will have indoor games & coin-operated games, souvenir merchandise, bait & tackle, ice and pop and a Fitness Center with Ellipticals & Treadmills.
Over our 10 years we have totally renovated the resort by gutting out the cabins down to their studs and rebuilt them with all new plumbing, electric, full size kitchens and full size baths. We also added 2 new cabins to accommodate our waiting list. We also have added many other amenities over the past 10 years such as: A/C in all the cabins,  WiFi, Laundry facility, updated fish cleaning house, lakeside electric for charging boat batteries, Satellite w/19″ color TV's in all cabins including DVD players with free movie sign-out, Shuffleboard, Tetherball, Huge Rainbow Playground, Docks, New boats & motors, 2 level in-ground beachside Fire Pits and our lakeside benches to enjoy those gorgeous sunsets. We also have many FREE watertoys for you to enjoy such as: 20ft Water Bongo with fun attachments, Stand-on Paddleboards,  Aqua Paddlers, Waterslide, Canoe, Aqua Cycles, Kayaks and Hydrobikes.  Many parents commented how nice it was that the kids had plenty to do and wore themselves out and slept great. Bear Paw Resort will continue to be a great Family Destination for vacation as it has in the past. (updated 12/28/15)